Envisagez-vous la carrière de coach certifié
en Equine Facilitated Learning and Coaching (EQUI-COACH)?
Anouk LORIE est certifiée EFLC Level One Provider
de l'Academy for Coaching with Horses - fondée et gérée par Kathy Pike
et dispense le NIVEAU 1 de la formation - Au Canada et en Europe (en Anglais uniquement)
- en raison de la situation sanitaire, cette formation se donne actuellement EN LIGNE uniquement -(www.coachingwithhorses.com)
The EFLC (Equine Facilitated Learning and Coaching) Level One training program is based on the philosophies and theories shared in the book: Hope from the Heart of Horses: How Horses Teach Us About Presence, Strength and Awareness, by coach Kathy Pike. (Available in our Equine Facilitated Learning Store.)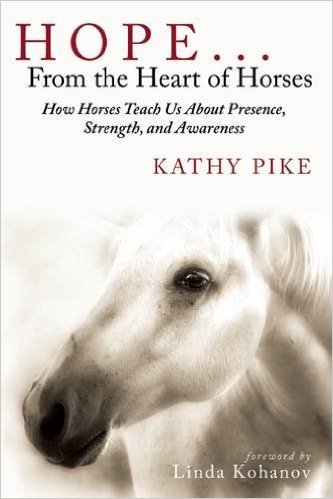 This 7-day EFLC Level One is designed to blend horse wisdom with the human experience to expand possibilities and consciousness with a focus on helping people access their true authenticity and potential. You will participate in the 3-day Dance of Authenticity through the Wisdom of the Horse program, have one day off, then continue with 4 full days of EFLC Level One training designed to begin developing the ability to coach a client in the presence of a horse. You will uncover new skills based on a body-centered awareness with an emphasis on coaching.
Through your own experiences with the horses during the program, you have the opportunity not only to refine your skills in working with others, but also to deepen your ability to communicate and work with horses. Level One offers a stimulating environment to develop your unique voice and focus in the rapidly growing movement of employing horses as teachers, mentors and guides for humans.
We attract clients from many walks of life from all over the world. Our programs are offered in Europe, Australia, and several locations in the United States. We strive to deliver an experience that offers structure while at the same time encouraging innovation and exploration on a personal and professional level.
The EFLC Level Onetraining program is for individuals who wish to:
Incorporate EFLC sessions into your already existing client base (coaches, teachers, riding instructors, etc.)
Continue into the yearlong EFLC Certification program.
Learn facilitation skills to support your business partners who are already certified in the field.
Develop a strong foundation of EFLC processes and skills while exploring the field.
Have a more integrated coaching approach in your teaching, horse instruction or lessons.
During the EFLC Level Onetraining program you learn:
How to integrate Horse as a teacher, mirror, and spiritual mentor in your life or business.
Coaching processes to enhance emotional intelligence through deeper levels of somatic and sensory awareness.
Key tools to Coach reflective/contemplative equine based learning sessions.
Four Steps to the Present resource tool.
When and how to engage presence and intuition to elicit the golden nugget of a sessions.
How to change the way you relate and create your life as you integrate the "way of the Horse."
The EFLC Level One program includes the three-day Dance of Authenticity through the Wisdom of the Horse workshop, followed by one day off and then the four-day EFLC Level One training program.
The workshop segment offers experiential exercises with a goal of reaching higher levels of authenticity, presence, intuition and emotional intelligence through working directly with horses. This includes a one-on-one session with a horse for your personal growth. Workshop packet included.
The four-day EFLC Training segment teaches how to facilitate sessions employing a horse as a co-coach, teacher or mentor. Our programs are designed with a Coaching approach. In this approach we help people identify where they are at and where they want to move towards as they deepen their sense of authenticity, self, truth and purpose. We accomplish this through worksheets and processes such as: Authentic/False Self Exploration, Reflective Round Pen Sessions, Emotional Message Chart, Body Scan, Four Steps to the Present, energetic tools for grounding and boundaries and much more.
Completing this program allows you to continue through the yearlong EFLC Certification Program created by and offered by Kathy Pike.
No Upcoming Dates for now - please let us know if you have interest, contact us for more information or sign up to be on the waiting list.
The EFLC Level One program includes :
- the three-day Dance of Authenticity through the Wisdom of the Horse workshop
- followed by one day off and then the four-day EFLC Level One training program
To register:
Call directly: +1-450-340-0535
Or Register here: https://coachingwithhorses.com/calendar/